Lifestyle
5 Songs That Make You Feel Good About Your Hair
By
|
Ladies, have you ever felt insecure about wearing your natural hair or if you have recently cut your hair and instantly regretted it? Well, don't feel insecure or have any regrets…just embrace it! There are multiple ways to embrace it, even if you wear protective styles. Music is a way to keep you upbeat and positive feeling about your hair. Listed below are five songs that will keep your spirits up about your hair whether it's your natural hair or extensions. Everyone deserves to feel beautiful.
Fancy by Drake feat. T.I. & Swizz Beatz

Fancy is best listened to when you are getting ready for the day, a wash day, a night out with the girls…you get the idea. There are so many confident boosters in this song, there is no way you can feel insecure about yourself. PERIOD.
"Oh you fancy, huh? Nails done, hair done, everything did."
2. Mine by Princess Nokia
Mine is more like an ethnic girl PSA letting people know regardless if it's our real hair or not. As Princess Nokia says "it's mine, I bought it". Such a sassy, yet inspiring song to let people know that the way we choose to wear our hair is our choice. Meaning your personal opinion about it is irrelevant…and no, you cannot touch our hair.
3. Flawless by Beyonce
You know Bey had to make the list! Here is another song that makes you feel good not only about your hair but your ENTIRE existence honey! Flawless is a bop that makes you forget that others even have opinions about you or your hair. "You wake up. Flawless." The song is self-explanatory, but confident sista! You deserve to be!
4. I Am Not My Hair by India.Arie
This song speaks from the soul within. This reminds the girls/women of the world that no matter how your hair looks, it does not define who you are as a person. It is all about what is inside, who you are as a person. India says "I am not my hair, I am not this skin, I am the soul that lives within."  This song gives poetry vibes for sure, and it is an upbeat kind of song so you can rock to it a little bit. Don't let anyone try to define who you by just looking at your hair.
5. Get up 10 by Cardi B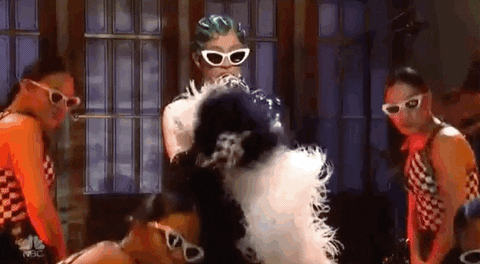 "Nails done, hair laid, keep em' both laced" That's right Cardi! let em' know! Ladies, Get Up 10 is about her come up, how people betrayed her, said negative things to her, so she had to boss up and let them know what's up! If you have a gangsta alter ego, this song is perfect for it! You may not have gone through those exact things, but you get so in tune with it you begin to feel it and go into beast mode! Another great song to listen to for when you are getting ready for the day, or a night out.
Moral of the blog: Don't let anyone try to make you feel insecure about yourself due to your hair. Stay confident, and positive no matter the circumstances! You are beautiful inside and out! Especially us Cut Life Ladies!